I've not reviewed either my Nexus or any apps for it, but I've found Wordfeud to be an exception.
It's a Scrabble clone for Android phones and it's really good.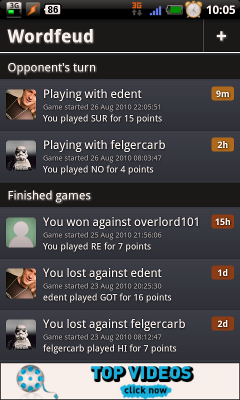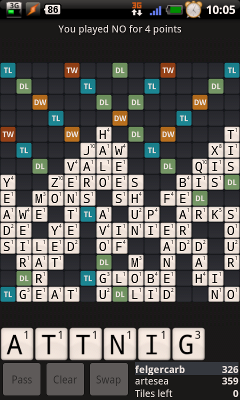 It allows you to play at your leisure against one opponent per board, with 20 boards at any one time.

The GUI is nice and clean and I don't have a problem with the adverts.
It's still an early version so there are some issues, the biggest one being that it needs to run the game via a server, and as popularity grows the server crashes. It's similar to what happened early on with Wordscrapper on Facebook.
What I hope to see in future versions:
Play against 2, 3 or 4 opponents
Add a TWL dictionary for the Americans who keep complaining about it having illegal words which are fine in SOWPODS
Allow users to shuffle their tiles whilst waiting for their turn
Customer alert sounds and trackball colour
Custom friends list
There are people who are complaining about the adverts, these appear straight after you make a move. I'm more than happy with this as it keeps the game free and means I don't have adverts on the screen whilst looking at the board. People asking for a "Pro" version need to make sure that they will be fine if the backend servers go down after they have handed over money. Whilst it is still having outages I would suggest holding off releasing an ad-free version.
A quick tip is to go into Settings (click the menu button from the main screen) and activate background notifications. This way you'll be notified whenever it's your turn to make a move.
If you've got an Android phone, download it today



Reading this on your mobile download it in the Market now.
If you fancy a game I'm artesea