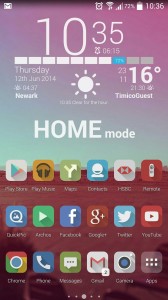 The following is the relevant code to get Tasker, AutoLocation, Zooper and Forecast.io to display the one line weather summary on your phone.
It's possible to not need AutoLocation and use the Tasker lat/lng but I was after testing the application, and you could use a different widget tool like Minimalistic Text, or even just a notification in the status bar.
Step 1:
Sign up to the API at Forecast.io https://developer.forecast.io/register
You don't need to provide card details as the you get 1000 calls per day, and you shouldn't get close to using them all (my peak is only 84 calls). At worst it would just stop working for the rest of the day.
Make a note of your API key.
Step 2:
Build this profile in Tasker (note you need your API key from step 1 as !!!!YOURAPIKEY!!!!)
Profile: Update Weather Text (46)
State: AutoLocation Location [ Configuration:Location Report Name: Weather ]
Enter: Weather V2 (28)
A1: Flash [ Text:Getting weather Long:Off ] 
A2: HTTP Get [ Server:Port:https://api.forecast.io Path:forecast/!!!!YOURAPIKEY!!!!/%allatitude,%allongitude Attributes:units=uk Cookies: Timeout:10 Mime Type: Output File: Trust Any Certificate:Off ] 
A3: If [ %HTTPR = 200 ]
A4: JavaScriptlet [ Code:var info = JSON.parse(global("HTTPD"));
flash(info.minutely.summary);
setGlobal("FORESUM", info.minutely.summary); Libraries: Auto Exit:On Timeout (Seconds):45 ] 
A5: Zooper Widget Pro Variable [ Configuration:#TWEATHERTEXT# = %TIME %FORESUM Package:org.zooper.zwpro Name:Zooper Widget Pro Variable Timeout (Seconds):0 ] 
A6: End If 
A7: AutoLocation Location [ Configuration:Stopping Location Monitor
Location Report Name: Weather
Update Type: No Power Package:com.joaomgcd.autolocation Name:AutoLocation Location Timeout (Seconds):0 ]
Step 3:
Build this profile in Tasker
Profile: Display Unlocked (61)
Event: Display Unlocked
Enter: Get Location For Weather (62)
A1: AutoLocation Location [ Configuration:Starting Location Monitor
Location Report Name: Weather
Update Type: Balanced Package:com.joaomgcd.autolocation Name:AutoLocation Location Timeout (Seconds):0 ]
Step 4:
Have a Zooper widget which has a text field with the content #TWEATHERTEXT#
Step 5:
Turn your phone off, wait a few seconds, then turn back on and unlock.
If the Forecast.io call is working you should first see a toast with "Getting Weather", followed by the one line text.
You can remove these once you are happy everything is working, they are both in Weather V2, the first is at the top, the second is within the Javascriptlet, just delete flash(info.minutely.summary);