Having finally installed iOS4.1 on Heathers phone, I managed to get the AirPrint installed (hacked) on to my Windows 7 machine.
Several test prints worked fine, but then when Heather gave it a go nothing came out.
Looking at the print queue I could see the incomplete job "printing", but attempt to cancel or delete did nothing. With this item at the top nothing else would print.
Turning the printer off for a few minutes did nothing, nor did rebooting the PC.
So in the end with a bit of Google this was the solution:
In Control Panel open "Administrative Tools" (might be in "System and Maintenance"). From here double click on "Services". Scroll down until you see "Print Spooler", right click and select "Restart".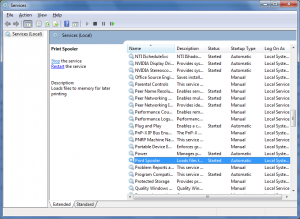 Wait a minute or two and your print queue should now have finally deleted the job.