For the last few weeks in my spare time, I've been trying to create a hybrid of Dabr (a PHP open source twitter client which supports oAuth) and juitter (a javascript jQuery client).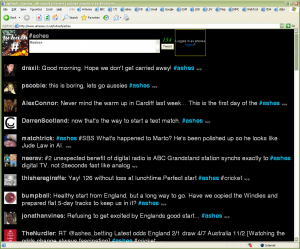 Today I can announce twhash.
To do anything you need to be logged in to the site, via the oAuth call to Twitter (don't worry if you don't understand, just follow the links on the site).
Then you select the #hashtag you want to follow, and in near real time the tweets appear on the page.
If you want to take part you can enter a tweet at the top of the page, and if you want to reply to a message hit "reply" first and it will fill in the @name and set the flag to link the tweets together.