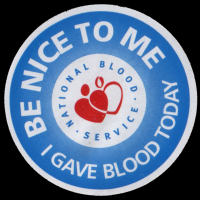 I'm a regular blood donor. I have a nice certificate and a pin badge saying I've made it past 10, however this time last year I failed one of their tests. It turns out I've got Anemia. They wrote to me they advised me to see my doctor, and to come back in a year. I now take iron tablets each day, and my last blood tests showed everything to be ok.
So when the email came around saying that the blood van was to be parked up in our work car park on the 4th February I gave them a call. The first problem I had was that session hadn't been put on their system, and so it wasn't possible to book an appointment. A few emails later this had been sorted out and I called again. They could find the session, but their computers refuse to let me give blood until the 9th February, one year after their letter. Even though it's been 16 months since my last donation, computer says no.
I was offered alternative locations after the 9th, however with the hours they are available being the same as those I work, it makes it pretty hard for me to donate. Instead I'll just have to wait for them to come back in June.
At least in June they'll give me the chance to give blood, if I was Gay, I would never be allow past the questionaire.