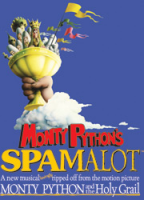 Having just watched The Secret Life of Brian on Channel 4, I remember that I've yet to post my review of Spamalot.
I took Heather along just before Christmas for her birthday to a Saturday Matinee (the only tickets left). The musical follows the basic plot line of the Holy Grail and includes scenes from the film, but has been re-scripted for Broadway, which is the first problem.
It felt like some of the English humour was taken away to accommodate the Americans, and forgot to be put back in for the West End version.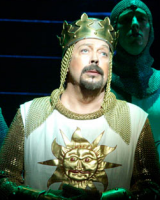 Also the extra bits felt like they were written by either Mitch Benn or Richie Webb, both I can go and see for less than a tenner, a lot less that Spamalot!
However it was still funny. The set is really good and has been made to look like the original style of Python animation. The French and the Knights who say Ni. A full 10 out of 10 to Tim Curry who played a great King Arthur, if you do get a chance try and see the show before he goes (although if Keith Allen is free, I'm sure he would make a great replacement).
As per any West End show you will need to take out a small loan for tickets, programme and drinks but it was worth it.