Following on from my rather successful guides in getting Blackberry and TomTom on your P990i, I've decided to write my next guide on getting good videos onto your phone.
UPDATED (Wed 13th Dec 13:54)
Step 1: Download M3
Step 2: If you don't have it download .NET Framework
Step 3: Run the software with the P990i profile
Step 4: Copy the MP4 file to your memory card.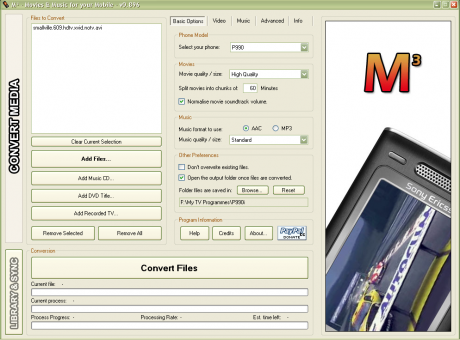 It's that easy!!! If you want to do it the hard way follow the instructions below.
The orignal post
After spending days sifting through all those Google links, trying to avoid software which sliced the files, was expensive or contained spyware / viral software I was finally pointed towards SUPER © (keep looking for the download links).
It's free and as far as I can see has no spyware or anything else nasty (please let me know if you do spot something).
Installing is simple and when you finally get it running you should see this screen with tons of settings.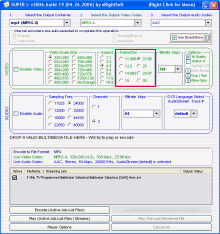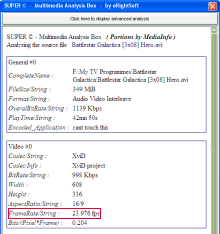 You should either find the file you want converting and drag-and-drop it, or right-click and selected Add Multimedia File(s).
Now you can do what you want, but as your reading this, I'm guessing you want my opinion. So:
Output Container – mp4 (MPEG-4);
Video Codec – MPEG-4;
Audio Codec – AAC;
Use Direct Show – Ticked;
Video Scale Size – 320×240;
Aspect – 4:3;
The next one seems to be debated a lot, the phone will cope with 30 frames per second, however I always recommend using the same as the source file. There is no point setting it to 30 when the original was only 23.98. As each file is different always check this one. To investigate double click on the files name in the big grey box towards the bottom. This should open a window like that on the right and look for the line with FrameRate/String, for this file it's 23.976 so I've used 23.98 in SUPER ©.
Bitrate kbps – 768;
Hi Quality – Ticked;
Stretch It – Un-ticked;
Audio Sampling Freq – 24000 (if you can really tell the difference then set it to 48000, but I don't think it's worth it);
Channels – 2;
Bitrate kbps – 64;
Now all your settings are complete, you just need to hit the Encode button and wait.
Two things to point out, firstly the status bar is pointless, it gets to what looks like 100% pretty quickly, before returning to zero. It will do this lots. Secondly for large files (+300mb) it seems to always say that the conversion failed. With these settings your files should be reduced by around a third, so if it's only 50-100mb you may need to try again. If it's 200mb it's most likely worked.
The last step is copying the file to your phone or memory stick which is easy, then opening Media Player, Video and selecting the file. (Warning, don't worry that it can take up to 30 seconds for the file to start and that you'll phone will just jam, it will play eventually!)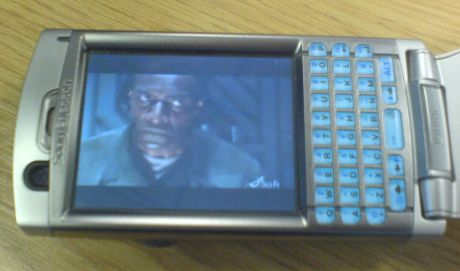 Finally two small short cuts:
Right-click on SUPER © and you should see an option called Specify The Output Folder Destination, it's worth setting this to something within My Documents, otherwise you'll spend ages hunting for your converted file.
Also if you right-click another option is called Import (Load) An External SUPER © Profile and in the file name box enter https://blog.artesea.co.uk/images/P990i.spf and all the settings will be set to those above.