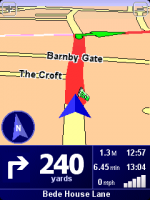 My Holux GPS receiver arrived yesterday from nav4all, which finally let me try TomTom Navigator 6 on my P990i. Whilst it's still not officially supported by TomTom, if you buy the software it comes with an option to install on a UIQ3 phone.
The install process is really easy. Just put your memory card in to your computer and run the install DVD. You'll then need to put the memory card in to your phone, which will start the phone installer.
After selecting maps, languages and my new GPS receiver, TomTom found me in my house.
With favourites and points of interest this morning I was able to get to David's and be warned that there was a 30 mph speed camera (thanks PocketGPS World). However en route to work I was informed that the A46 between Lincoln and Newark is 30 in some places, yet it's 70 the whole way.
Otherwise it's all great.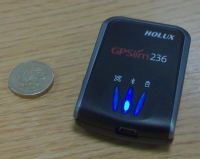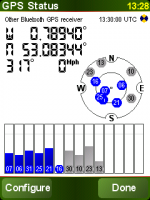 If anyone is looking at running GPS via their phone, grab a Holux 236 from nav4all whilst there are still €70s as it's worth every penny. The image on the right was the coverage inside my office, and it actually got better finding 8 satellites, minutes later.