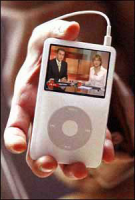 I decided after seeing the advert for the Breakfast Takeaway Vidcast to give it a go on my P990i. I was expecting the quality to be pretty poor, and wasn't expecting many stories. However it's 10 minutes of the mornings news in quality which is better than that off an analogue TV.
If you are one of these people who rushes out of the house without getting to catch the news, but then have a 10min+ train/bus/tube journey, give it a try.
The only shame was that it didn't have the Borat story, where Sacha Baron Cohen kept calling the short BBC interviewer as small girl.