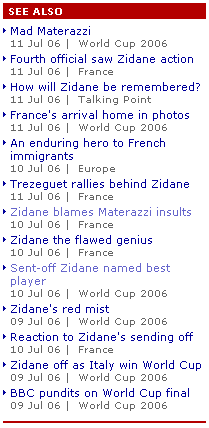 Just looking at Fifa investigates Zidane red card on the BBC website and noticed a few stories in the Also See section.
Mad Materazzi,
Fourth official saw Zidane action,
How will Zidane be remembered?,
France's arrival home in photos,
An enduring hero to French immigrants,
Trezeguet rallies behind Zidane,
Zidane blames Materazzi insults,
Zidane the flawed genius,
Sent-off Zidane named best player,
Zidane's red mist,
Reaction to Zidane's sending off,
Zidane off as Italy win World Cup and
BBC pundits on World Cup final.
Guessing BBC Sport don't have much else to talk about.