Now whilst I think that I might have been called sick once before, a national newspaper is a first for me (and on page 2!).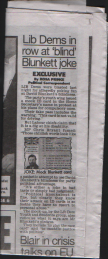 Chris Bryant MP seems to think that an item which I designed and sent out to student branches 15 months ago is newsworthy. Now I can understand why people might think that I'm "poking fun at David Blunkett's blindness", but I wasn't.
I spent ages researching what an ID Card would look like and a year ago these were the stories that were on the BBC Website Plans for '£40 ID cards' and Blunkett pushes ID cards debate. Back then, we were all led to believe that ID Cards would be an all-in-one card, which would replace your passport and driving license.
Now as we have EU standardised driving licenses, the belief was that ID cards would look similar, but would differentiate between those who could drive, those with a provisional license and those who can not drive.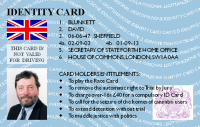 Early examples of designs for ID Cards across a variety of sources all had the words "This card is not valid for driving"
However since Blunkett changed his mind last week, and now you'll need a driving license, a bio-metric passport and a bio-metric ID card, I'm guessing that the design will be slightly different.
On another note, I like the fact that Chris Bryant said "Everyone knows the young Lib Dems want to legalise drugs and Kennedy hasn't the spine to take them on." I was under the impression that we lived in a democracy, and one of the great things about the Liberal Democrats, is that it lets it's members, local parties and the youth wing make policy. In fact this is exactly what Peter Hain was calling for in the Guardian back in March.
Although I have to say that I do like Chris Bryant's idea of calling LDYS "Lib Demlets"
Please note, that I DO NOT grant permission to anybody, to use the images included in this post, please contact me first