So if you've been on social media this weekend you will have seen a number of tweets like this with people astounded that their site is being blocked by o2.
I would hate to be a kid with @O2 broadband with parental blocking turned on. Looks like everything is blocked pic.twitter.com/yIF8STq6Ov

— Glynn Phillips (@GlynnPhillips) December 22, 2013

Did they discover this because they couldn't access the site on their mobile? No because they followed a link someone else tweeted, entered their URL and saw the word BLOCKED.
So what exactly is "Parental Control", this page on the o2 website explains:
Parental Control is a service we offer to help parents to protect their children while they're online. It enables us to restrict children's web access via their mobile to a limited number of sites which are suitable for children.
It's opt-in, and mainly aimed for children under the age of 12 who for some reason have their own mobile. As such it's a whitelist of sites known to be ok. Search for lego and you get this: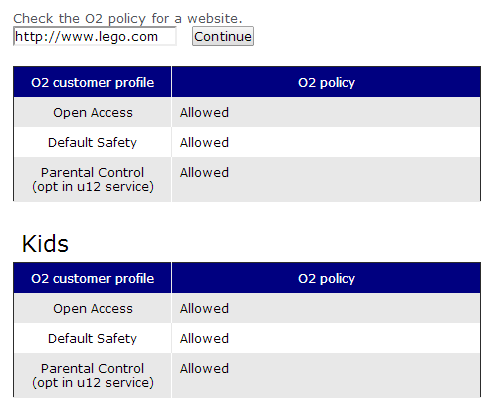 Parent control isn't part of the government "think of the children", nor "urgh nasty pictures on the internet, that grown adults might get pleasure from", it's a service that o2 have been offering for years, but have had very little take up.
The setting which stops naughty websites from appearing on your phone is "Default Safety". If it's anything like Vodafone's "Content Control" this is the default every phone number is set to. You need to opt out of this if you want to view sites such as the one below: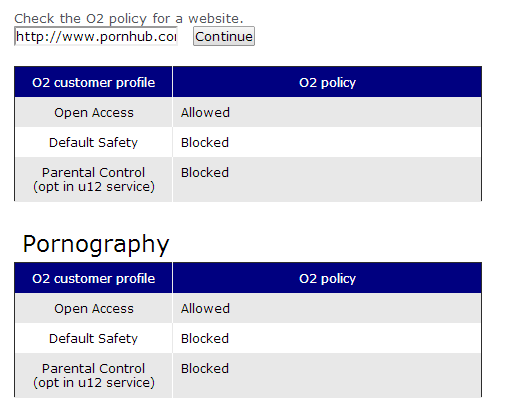 .
Proof of age in a store, or payment taken on a credit card was what we used to have to deal with and again it's been like that for years. Mobile networks have had a list of pervy customers before David Cameron started his latest crusade.
Of course your site may be child friendly and even educational, but until you tell o2 that you believe it's suitable, you're not going to magically appear on a whitelist.
Notes
I notice that o2 have added the line (opt in u12 service) to the results page to attempt to clear things up since yesterday.
Of course mobile data blocking won't do much help when most phones have access to WiFi and most public WiFi only restrict adult sites.