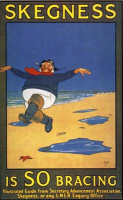 Having read my Reports to Conference I noticed that we've yet to confirm that we'll be going to Harrogate again in 2008. Then on the BBC Lincolnshire website I saw this story: Theme park to get concert venue and text of the story says
Conduit Leisure said it will add a 6,000-seat indoor arena to the Fantasy Island complex at Ingoldmelds… The indoor arena would be able to host concerts and conventions.
Everyone could then enjoy the fun of Ingoldmelds and Skegness.