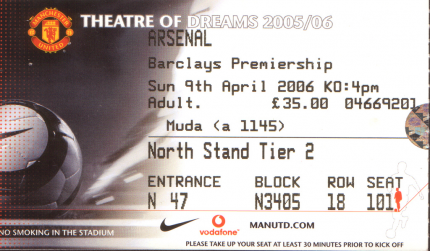 On Sunday David and I went to the Man Utd – Arsenal game.
I had to sit in the Man Utd stand, as chances of getting away tickets for the Arsenal seats would be near impossible.
I thought I would be able to sit back and not make a sound, but a few near chances in the early stages and I was having to bite my tongue hard.
But it didn't last long, some great saves from Jens Lehmann and Kolo Toure in the first half ensured a nil-nil draw at the midway point, but the second half Man Utd out played us and deserved the win.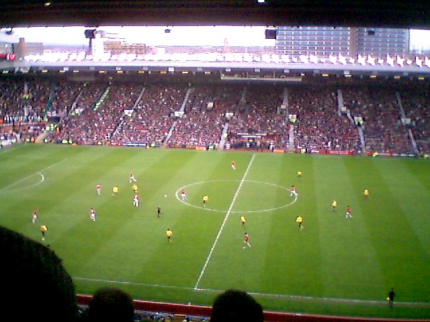 On the way home, we began to notice some snow on the number plates of approaching traffic. And then as we were travelling across the Peak District the snow fell. The visibility was low, and there was a twat in a Ferrari trying to overtake the 100 odd vehicles travelling safely at 40mph. It cleared up once we left the Peaks and the final part of the journey was fine.
It was a great day out, and Old Trafford is a lovely stadium, even if it is the home of them.
Think I need to start going to some more games, even if it is Lincoln or Oldham away games.