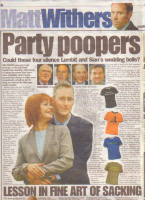 My T-Shirt shop has been in the news over the last few weeks.
First there was LibDem News in the People section.
Then the Guardian Backbencher (twice).
The Wales on Sunday were giving them away as a prize on the politics page a few weekends ago.
And yesterday I was in Popbitch, leading to over 6000 hits!
I'm also republishing the graph below, as it's now fallen off the main page.