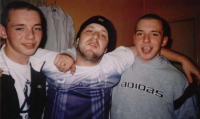 Staying at the Hilton Newbury North for the week, David and I went for dinner last night in jeans and t-shirt.
We went to give our room numbers but we were just waived in.
When we sat down we suddenly realized. There must have been at least 20 chav's all staying the night. Somebody must have been paying their bill, but the hotel staff must have believed that we were with them too!
Whilst the dinner ended up being free, I was going to claim it on expenses anyway.
Some how I feel dirty.