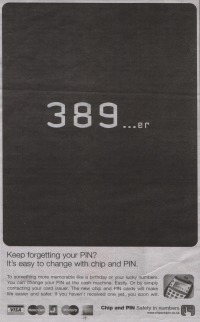 The current Chip and PIN ads in the newspapers are giving us this piece of advice:
Keep forgetting you PIN?
It's easy to change with chip and PIN.
To something more memorable like a birthday or your lucky numbers. You can change your PIN at the cash machine. Easily. Or by simply contacting your card issuer.
Right, so when the thief steals my wallet, the first PIN combination they are going to try is DDMM or MMYY of my birthday, which is on my driving license and they are now also telling us that we can change our PIN by phone!