Posted on November 29, 2008
Edit: 11/12/2008 The BBC have annouced that the X1 is now supported, however it won't run over Vodafone at the mo.
Since the BBC launched the iPlayer for the N96 I knew it wouldn't be too long until it would be available for other phones. However I can't wait, so spent today looking for methods in getting my X1 to stream the shows.
I managed to extract the RTSP stream of Buzzcocks and successfully got that working on my phone. My next step was to find a way that didn't involve me using my PC opening a collection of random XML files in order, to then email a link to my phone.
Several hours of coding and I managed to strip out the opening the files on the PC to a simple web script, however I still needed the 8 letter/number code for the episode to be parsed to the page.
Then when looking at the BBC source I noticed something. They now support the Samsung I900 a Windows Mobile device.
The method for checking if your phone is a Samsung, a simple User-Agent check.
Knowing how to modify the User-Agent in Opera on my X1 I placed the code need to pass the check and BINGO my phone now loads the BBC page and plays the shows.
These are the steps for an X1i Vodafone UK Branded
Run Opera
In the address bar enter opera:config (no http://)
Scroll down to User Prefs and click
Scroll down to Custom User-Agent and at the end of the pre-filled text add sgh-i900
Scroll down some more and press Save. You will get a prompt which suggests you may need to reset the phone, but for this you don't.
Now point your browser to http://www.bbc.co.uk/mobile/iplayer/ and enjoy.
If on your phone the Custom User-Agent is blank, try visiting something like whatsmyuseragent.com copying the User-Agent which your phone is currently displaying and then add sgh-i900 to the end.
WARNING: Please only use whilst on WIFI. I accept no responsibility for you running up HUGE bills due to large data downloads. Even if you have an "unlimited" add-on, check with your network for their Fair Usage (Vodafone's is 500mb) as you can quickly exceed it watching TV on your mobile!
The quality isn't exactly great on a WVGA screen as it's been built for the Nokia N96. According to beebhack these are the specs.
Access Method: RTSP streaming
Video Codec: H.264
Video Resolution: 320 x 176
Video Bitrate: 128 kbps
Audio Codec: AAC
Audio Bitrate: 64 kbps
Overall Bitrate: 192 kbps
ps if you get a BBC 502 error, don't worry. Looks like they are playing about with the site themselves. Just try again later.
Posted on October 08, 2008
…sort of. The BBC have launched Sideloading in which you can now download programmes from the iPlayer in a lower res format to copy across to your phone or video playing handheld device.
The current restrictions are that your mobile must play DRM Windows Media files and that the downloads take place on a Windows PC.
This looks like another great bit of progress for the iPlayer project, just need to get myself a new phone which will play the files now.
One of the things that you notice whilst away from Conference is the actual coverage that it gets. So far I've yet to see any pictures of Liverpool, but the BBC ran with "less VAT on fruit juice, more on alcohol" as their 2nd or 3rd item this morning. However whilst bored on the sofa, here were the stories on their PDA version:
OTHER TOP STORIES
Cable rethink on homes of rich
Vince Cable tells BBC News he scrapped plans for a £1m home tax over fears it would hurt middle-class voters.
SCOTLAND
Talks over scrapping council tax
Talks have taken place between ministers and the Lib Dems over scrapping the council tax, it emerges.
POLITICS
Lib Dems back Clegg health plans
Nick Clegg avoids a conference rebellion over NHS proposals but is forced to make some concessions.
HEALTH
Lib Dems propose juice tax cuts
VAT on fruit juice should be cut to 5% to encourage healthy diets, the Lib Dem spring conference is to hear.
Unfortunately the LibDems don't seem to appear in one of the most important stories of the day:
TECHNOLOGY
BBC iPlayer comes to the iPhone
The BBC launches a version of its iPlayer video on demand service for the Apple iPhone and iPod touch.
Posted on December 26, 2007
There seems to be a large flaw with the BBC iPlayer, their Parental Control feature is based on a cookie.
This makes it very easy for any computer whiz kid to allow themselves to watch programmes which are normally shown after the watershed whenever they like. And to top it off, the BBC explain how to delete the cookie in their help page.
Posted on December 26, 2007
Voyage of the Damned was on last night and in case you've forgotten to tape it / dvd-r it / store it on a hard drive / sky+ it or just want to see it again, then you can watch it right now online (only available to those in the UK) via the BBC iPlayer

It comes with changed title music, and right at the end 2008 teasers.
Posted on December 13, 2007
After the disaster which was the BBC iPlayer, the BBC have relaunched with a flash version instead. This runs on any computer (Windows, Mac, Linux) as long as you have Flash installed. A bit like YouTube.
It's seems to be great, and no longer do I require that crap software on my computer.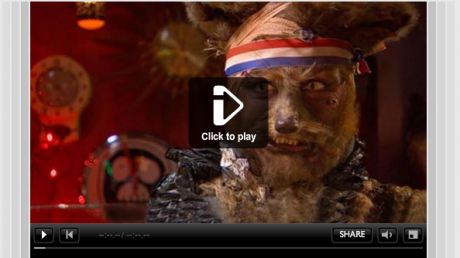 Posted on January 31, 2007
Looks like another hurdle has been reached with BBC on-demand app.
Having taken part in the original iMP trial, it should be great as already this year I've missed This Life and The Thick of It, something the new iMP would solve.
Posted on December 16, 2005
No need to worry that I might miss the best bits of the BBC this Christmas as I'm on the iMP trial. Which has now been extended until the end of February (why does it have to end?

)
So I can legally download Dr Who on Christmas day and then watch it over and over again until the new year.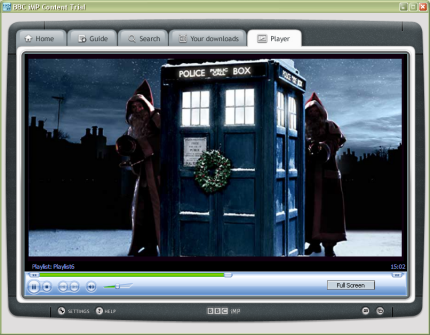 Posted on November 02, 2005
Not a post about the Lincoln Football Team, but about the BBC Interactive Media Player.
I blogged about this back in December last year, and am now the 14th result on Google for Interactive Media Player.
Today I got my trial invite

Not sure if it was from the email I sent months ago, or the comment I left on the BBC stand at Federal Conference, however I've now got it up and running on my computer.
Finally I can get to watch those missed episodes of Spooks, or the new comedy on BBC Three that we can't get without an aerial upgrade.
Will comment later on quality, just waiting for The Thick of It to download.
Posted on December 15, 2004
Last night Newsnight were talking about downloading Movies and TV shows over the internet. They highlighted the BBC Interactive Media Player, as an example of what can be done to combat file sharing of TV shows.
Now I want to be in on this trial!